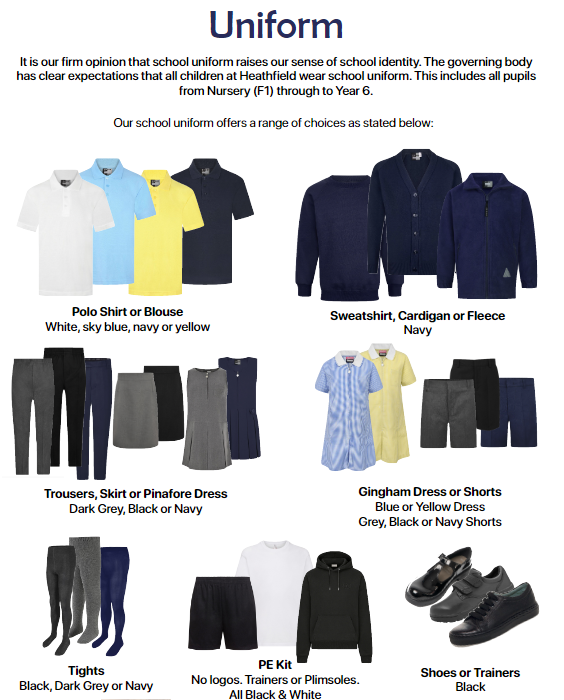 Please note: Our school uniform and PE uniform colours are compulsory but there is no requirement to buy branded uniform. All items can be purchased from a range of cost-effective retailers.
We encourage the use of pre-loved uniform and always have a supply in school thanks to the generosity of our families.
Our Uniform consists of:
Navy blue Zip-up fleece OR Navy blue sweatshirt OR Navy blue cardigan
White, light blue, dark blue or pale yellow polo T-shirt/shirt
Grey/black/navy trousers – not denim or jogging trousers
Grey/black/navy skirt OR Grey/black/navy pinafore dress
Black, flat shoes – no heels higher than 4cm inclusive of any platform
Summer Options
Grey/black/navy tailored shorts
Blue or Yellow gingham dresses
NO sandals or open toed shoes
PE Uniform
Plain White t-shirt
Plain black shorts, joggers or leggings
Trainers,
a plain black jumper or hoodie for outdoor PE sessions
Please ensure all PE kit is plain with no logos, slogans or badges
PE kit will be worn as school uniform for the days that your child has PE
Please ensure each item of clothing is NAMED
Jewellery
Stud earrings only –Please note: these have to be removed by the child during PE lessons for safety
Please note that the school will be unable to take any responsibility for any jewellery that is lost.
Other aspects
Tights/long socks (when worn with skirts/dresses) should be appropriate to the school uniform colours (Navy blue or grey)
NO novelty headbands (e.g unicorn horns or cat ears)
NO extreme hair colours or hair styles (Headteacher's discretion)
NO make-up or nail varnish