Heathfield offers residential opportunities for all children from Year 1 to Year 6.
Late Night
Although not quite a residential away from home, we give our year 1 children the opportunity to stay at school later into the evening to roast marshmallows, create glow in the dark art and shadow puppets, pain their faces and have a glow stick disco!
Hathersage
Children in Years 2  can join a 2 night stay at the youth hostel in Hathersage, Derbyshire.  The children enjoy a long walk in the countryside as well as visiting Peveril Castle and Carsington Water en route.
Whitby
Year 3 children are able to spend two nights by the seaside visiting Whitby where enjoy a boat trip, fossil hunting, ghost walks and fish and chips!
PGL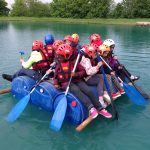 Children in Years 4  can seek adventure on the PGL camp which includes a variety of outdoor adventurous activities like raft building, climbing, archery and abseiling.  The camp is for 3 nights and is situated at Caythorpe in Nottinghamshire.
School Sleepover
Children in Years 4 can take part in an overnight camp in school whilst learning some key survival skills.  This sleepover in the hall is led by Adventures Into.
York

Children in Year 5 visit the historic city of York and stay at a youth hostel for 3 nights as part of the team building development of our oldest pupils.  This year it is taking place at the start of the year to establish strong foundations for the coming year.  The children visit the National Railway museum, go on a boat cruise along the River Ouse and walk the Roman City walls.
http://heathfieldprimary.org.uk/wp/wp-content/uploads/2022/04/Parents-meeting-1.pdf
London
Our Year 6 children spend three days in London exploring our capital city. During the visit the they have a trip on the London Eye, enjoy a cruise on the Thames, visit the Science and Natural History museums and see some of the city's most famous sights.