The best way to really improve well-being is through pupils understanding that:
Well-being is important for me
There are things that I can do to improve my well-being
Although we can support young people to be happy and healthy through the work we do, they have the best chance of being able to stay happy throughout their lives if they learn how to take responsibility for their own well-being.
The biggest difference we can make is to give young people the awareness and skills to look after and think about their own well-being.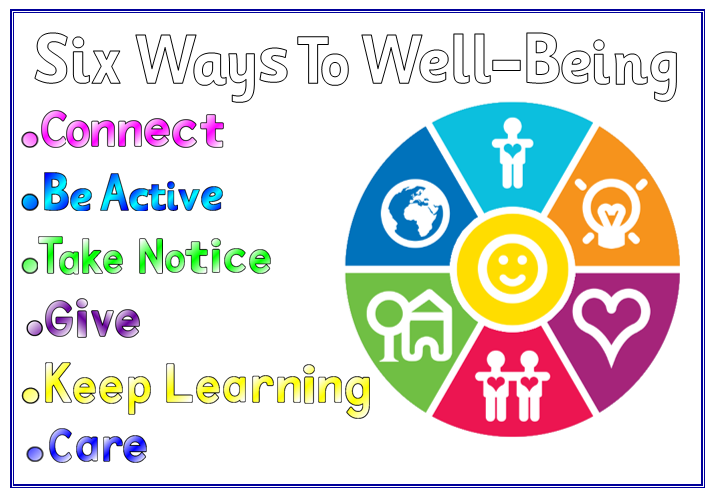 Key message:
Connect, build, broaden and strengthen relationships and social networks. Spend time with others, friends and family, this can be doing activities with each other and making time for conversations or having a chat and a giggle. We can also connect with our natural environment, nature and pets and wildlife.
Connect with the people around you. With family, friends, and neighbours. At home, school or in your local community. Think of these as the cornerstones of your life and invest time in developing them.
Building these connections will support and enrich you every day.

Key message:
Being active is for people of all ages and does not need to be intense physical activity. Being active can also encourage social interactions and build connections. Joining in with activities such as football, netball, tag and basketball also helps you to get along with others and learn to work well as a team.
Walk – Run – Skip – Cycle – Play – Garden – Dance! Exercising makes you feel good.
Evidence suggests that physical exercise changes your brain chemistry and releases happy hormones which in turn can make you feel more positive. Most importantly, discover a physical activity you enjoy and want to do!

Key message:
Take time to be still, reflect, and become aware of your surroundings. Reflecting on what is happening in the moment will help you appreciate what matters to you. Be aware of your thought and your feelings.
Be curious. Catch sight of the beautiful. Remark on the unusual. Notice the changing seasons. Savour the moment, whether you are walking to school, eating lunch or talking to friends. Be aware of the world around you and what you are feeling; reflecting on your thoughts and feelings may help you to identify and be aware of why you may be feeling a certain way.

Key message:
Any acts of kindness, whether small or large can make you feel happier and more satisfied about life. Seeing yourself, and your happiness, linked to the wider community can be incredibly rewarding and creates connections with the people around you. Do something nice for a friend, thank someone, smile, volunteer your time, join a community group, look out, as well as in.

Key message:
Learning new skills gives us a sense of achievement, and optimism and builds self-esteem.
Set a goal. Learn something new. Try something fun. Achieve a goal. Learning can involve any manner of subjects, not just what you have to do in school. Learning can be social, you may make new friends as well as new skills. Many exciting learning opportunities exist in life – learning is endless. What interests you? Learn more about it. Try something new. Sign up for that course. Take on a responsibility at school. Fix a bike. Learn to play an instrument or how to cook your favourite food.

Key message:
Taking responsibility for the world around you. Look after your community and the world. Make small changes to your life that will reduce your energy use, reuse, recycle, repurpose, leave the car at home, use low energy light bulbs, small steps to a greener life can make a difference. Consume less. Waste less.